Our Most Popular Overnighter is now 2
nights with 3 days skiing
February 8-10, 2021
**Trip cancelled due to travel restrictions**
Last year we changed our popular overnight trip to 2 nights with 3 days of skiing, which was a great success, so we are doing it again.
We will ski the first 2 days at Holiday Valley and the 3rd day at Holimont. Day 3 also coordinates with the mid-week Holimont day bus joining us. On the 2nd day of skiing at Holiday Valley, you have the option to return early to enjoy the hotel facilities or shop in Ellicottville.
Overnight accommodations are at the luxurious Wingate Inn (indoor pool and hot tub) in beautiful downtown Ellicottville, in walking distance to shopping and nightlife.
We are hosting a special Monday evening dinner at Dina's Restaurant, similar like last year.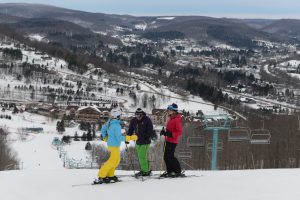 Trip details:
Accomodations:
We will stay at the Wingate Inn in downtown Ellicottville.
Package includes:
Luxurious coach transportation
Lift tickets at designated resorts
Double occupancy hotel accommodations
Free Breakfasts
Shuttle to and from resort
Reception Dinner at Dina's
All taxes
Important dates and payment information:
Deposits are non-refundable if cancelled by individual. If the trip is cancelled by the club or due to government travel restrictions, deposits will be refunded.
Deposit: $100 non-refundable application fee.
Balance: Cheque $395, post dated for January 8th, 2021.
Please make cheques payable to: Cedar Springs Ski Club Inc. – In Trust.
Passport is required for this trip

Deposit and balance cheques must be received by the club within 14 days of registration or your spot will be forfeited.

We encourage the use of credit card payments to make potential refunds simpler.
Price: $495 Cdn per person based on double occupancy. (No "U" Drives.)
Optional Insurance:
Not available for this trip. Participants are responsible for their own Trip Cancellation and Out of Province Medical Insurance.
Trip Leader: Sonya Haase
Registration for this trip will be available Friday October 2nd at 9pm.
When applying online for an extended trip, we trust that our members have every intention of completing the application by mailing cheques to the club within two weeks.  Please note that incomplete applications or cancelling a trip after completing the application will result in a $100 administration fee, payable to the club.  This fee is in addition to any penalties/forfeited deposits levied by 3rd party vendors.
*
Pricing on all trips is subject to change due to circumstances beyond the Director's control, such as fuel costs, tax, currency change.
Important links, please read before booking a trip:
Extended Trips Policies and Procedures